History of Folkest – 2011 Edition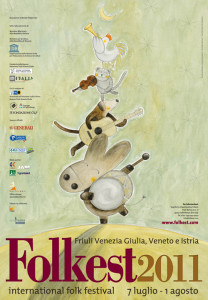 Like it or not, even during hard times of crisis like 2011, folk have had their audience and folk music has been transported to new functions.
It has led us to reason about our land, which does not mean only about the cultures, but also about the future emergencies we will be facing: firstly, therefore, a correct water culture, the new frontier of humanity. Not only in the desertified areas of the earth, but also in our rainy Friuli and in the whole Europe.
For this reason we have worked on a series of projects together with prestigious partners such as UNESCO and the International Center for Water Civilization for a series of interventions, already started in 2010 with the Drava river, which continued with the production of a suite musical dedicated to the Sava, presented in Brdo in Slovenia, which was the subject of a single, exceptional August evening in Fontanafredda.
For this reason, we have also started a series of collaborations with other events that have a similar sensitivity, such as the Guitar Rendez-Vous of Pieve di Soligo and Conegliano.
Introducing this Folkest 2011, we cannot forget Carnia, a historical region, which was already the cradle of the project of cultural decentralization that we innovatively implemented in 1980, see again a strong presence of Folkest shows, as well as the Bassa Friulana: these are two areas that suffer a bit of neglect, given the renewed tendency towards cultural urbanism recently noted in the region.
By touching and collaborating with the whole territory we have given life since 2011 to a series of meeting points, promotion and information, of the Folkest areas active all year, which will be called Folkest Point.
Artists Folkest 2011
Alan Reid & Rob Van Sante, Scotland
Almoraima, Puglia
Arnwil, Italy
At First Light, Ireland
Bandorkestra, Italy
Branco Selvaggio, Italy
Calicanto, Veneto
Cantodiscanto, Italy
Cantsilena, Lazio
Chiriké, South America / Italy
Daltrocanto Company, Campania
D'Agaro / Zanchini / Ottolini, Italy
Danças Ocultas, Portugal
Dave Palmley & Phil Holland, Ireland
Davide Van De Sfroos, Italy
Dhol Foundation, India / England
Durkovic and the Fantasists Del Metrò, Italy / Romania
Edoardo De Angelis, Italy
Esma Rezdepova, Macedonia
Filarmonica Città di Spilimbergo, Italy
Gastone Pietrucci and La Macina, Marche
Girotondo d'Arpe, Italy
Harduo, Italy
Jimi Barbiani, Italy
Koralira, Calabria
Lou Tapage, Italian Occitan
Marianne Green Trio, Ireland / Denmark
Matching Ties & Tir Na Nog, USA / England / Germany
Matteo Segrado, Italy
Mau Mau, Italy
Max Manfredi, Italy
Moni Ovadia, Italy
Mu-Roots: Special Folkest Edition, Italy
Nosisà, Friuli
Paolo Tofani, Italy
Passover, Italy / USA
Rocco Burtone, Italy
Second to none, Emilia-Romagna
Sirventes, Italy
Steve Hackett, England
Strepitz, Friuli
Tony Maude and The Knights of Friuli, England-Friuli
Vincenzo Zitello, Italy
Watcha Clan, France
Willie Nile Band, Usa
Wind, Italy
Young 8 Folk, Italy