History of Folkest – 2012 Edition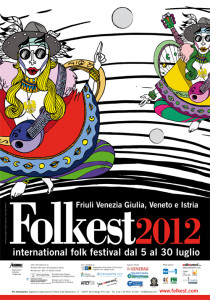 Like it or not, music is an important (indeed, fundamental) component of our life. Of everyone's life. There is music when one is born and when one dies, there is music in dreams and during the waking hours, music when one gets tired and takes a rest.
On many occasions we do not hear it but there is always, like the sun that does not cease to exist when it is covered by clouds. Simply, when music does not seem to be around us, it is certainly somewhere else in the world to be part of someone else's life. But there is always music.
One of the institutional tasks of a music festival, especially if it has 34 years of life and an extra-European notoriety like Folkest, is to force the hand to the randomness of fate or to the failures of the human race to make the music reacquire now and always its central role.
In this 2012 that seemed to approach the prophecy of the Mayans, between earthquakes and economic and financial upheavals, we asked ourselves about the characteristics that we could / should give to this edition of Folkest, and we replied that besides the moral duty to hold on (really an effort that we have known for a long time, perhaps forever), we should have given more.
And so here is the idea: to collaborate with as many realities as possible on the territory and outside it, opening our hearts to solidarity, making known the lesser-known faces of women and men who, even before being artists, intended to live their own human condition in all its facets, giving so to the humanity – and not only – unrepeatable musical pages.
This is why we chose the songwriters as a common thread that, without cultural baggage, linked Alice and Woody Guthrie, Claudio Baglioni and Roberto Vecchioni together, the uncomfortable themes of today's life and the lost serenity of when the world was smaller and we were all happier, perhaps. Also, thanks to the music, which was closer to us and helped us to live better.
Folkest 2012 aspired to be this. If we have succeeded we owe it above all to you, the public that has always been following us, and we have taken the courage to think – in the face of the innocent Maya and their presumed contemporary priests – of the 2013 edition and all the subsequent ones.
Artists Folkest 2012
Alan Stivell, Brittany
Alberto Grollo & Five Strings Quartet, Italy
Alice, Italy
Area, Italy
Babemalà, Piedmont
BK Evolution, Slavia
Bradley, Cunnane & Bradley, Ireland
Calegaria, Istria
Carrie Rodriguez, Texas
Color Four, Slovenia
Dave Alvin & The Guilty Ones, Texas
Decalamus, Lazio
Demodé, Italy
Elvira Impagnatiello, Italy
Ensemble Righi, Italy
Giordano From Armellina, Italy
Gualtiero Bertelli, Italy
Guidewires, Ireland
Humpty Duo, Italy
Irish & More, Italy
Jenny Sorrenti Trio, Campania
Jureduré, Italy
Kal, Serbia
Kiana, Hawaii
Krasì, Italy
Lino Straulino, Friuli
Maurizio Bettelli, Italy
Max Arduini, Italy
Gray Velvet Flies, Italy
Musicians of the Piccolo Borgo, Italy
Neither Ladeiras, Portugal
Neri Marcorè, Italy
Nosisà, Friuli
Paolo Bonfanti Trio, Italy
Peter Cam, Italy
Priska, Friuli
Q-Blues, Italy
Quinta Rua, Piedmont
Rachele Colombo, Italy
Resia 3000 / Mosole- Viezzi-Pagnutti, Italy
Roberto Vecchioni, Italy
Rosas and Cançoes, Italy
Saba Anglana, Somalia / Ethiopia
Sikè, Sicily
Silvia & The Fishes On Friday, Italy
Sirtos, Greece / Hungary
The Klezmatics, Usa
The Piedmont Brothers Band, Italy
To Loo Loose, Italy
TrainsInCorsa, Lombardy
Treves Blues Band, Italy
Trio Musicanti, Italy
Vola Vola Vola, Italy
Vruja, Istria